Badsey Society Publications
Census & other records UPDATED
Index of people
Index of places
Land valuation survey 1910-1915
Maps
MIs in the churchyard
Parish records
Research interests
Roads and streets
School records
Vale of Evesham records
Visitors book - 2012 and before

The Badsey Flower Show was on 27 July 2013. The Badsey Society stall had a family history theme. This poster, showing some local surnames, was on display.

Aerial photographs 2006
Buildings
Church & churchyard
Littleton & Badsey Growers
Looking back: old photos
Tour of village
Track changes: old & new photos
Wickhamford old photos NEW

Enclosure Map project
'Back Home to Badsey'
Church events
Floods of 1998 & 2007
In living memory: your recollections
Various village events
Last Market Gardener project

Record breaking peal ringers in 1956


Almonry Museum, Evesham
BMSGH - Worcestershire parishes
Chipping Campden History Society
Parishes around Badsey
Vale of Evesham Civic Society
Vale of Evesham History Portal
Register of One-Place Studies
Worcestershire Genealogy from Genuki
These link to historical information. Links to other village organisations appear on www.badsey.org.uk
---
---

Roads and streets, with information on individual houses
Auctions of land 1831 - 1930
Bridges of every sort
Littleton & Badsey Station
Mill at Badsey
School history
St James Church
Wellingtonia tree
Wickhamford NEW
See also: Index of places

A spent bullet found in the ground along Sands Lane. Who in Badsey, after serving in one of the British colonial wars, brought home his rifle and discharged it over Badsey?

Badsey as a surname
Barnard, Michael artist & historian
Barnard, William 1803 - 1892
Bent, Buckley early photographer
Binyon, C A & bells
Bloxham Family
Braby, Rev Peter
Byrd, Mary alphabet sampler
Crane, Evelyn childhood
Cull & Silvester family
Haines, Frank, village policeman
Hoby memorial in church
Howarth, Lorna
Jones, Bertram ivory carver
Knight family
Price, Rev W H
Sadler, Harry poem
Seward, William martyr
Seward family
Sharp family of Aldington Mill NEW
Smith, Norah appreciation
Stanford & Crisp family
Ted Wheatley's memoirs
Wasley / Page letters
Wilson family notes
See also: Index of people

The mass dial at Badsey church.
---


www.archive.badsey.net
The Badsey Society's archive
& virtual museum
---
---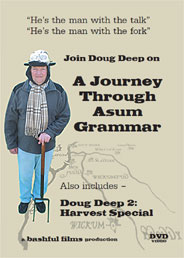 Doug Deep, a creation of Will Dallimore, roams the Vale of Evesham on a two-tine fork in his quest to educate the villagers in the art of Asum Grammar. Asum Grammar is a dialect used by the older inhabitants of the Vale and is named after the colloquial name for Evesham, 'Asum'.
---
---