---
---

Roads and streets, with information on individual houses
Auctions of land 1831 - 1930
Bridges of every sort
Littleton & Badsey Station
Mill at Badsey
School history
St James Church
Wellingtonia tree
Wickhamford
See also: Index of places

A spent bullet found in the ground along Sands Lane. Who in Badsey, after serving in one of the British colonial wars, brought home his rifle and discharged it over Badsey?

Badsey as a surname
Barnard, Michael artist & historian
Barnard, William 1803 - 1892
Bent, Buckley early photographer
Binyon, C A & bells
Bloxham Family
Braby, Rev Peter
Byrd, Mary alphabet sampler
Crane, Evelyn childhood
Cull & Silvester family
Haines, Frank, village policeman
Hoby memorial in church
Howarth, Lorna
Jones, Bertram ivory carver
Knight family
Price, Rev W H
Sadler, Harry poem
Seward, William martyr
Seward family
Sharp family of Aldington Mill NEW
Smith, Norah appreciation
Stanford & Crisp family
Ted Wheatley's memoirs
Wasley / Page letters
Wilson family notes
See also: Index of people

The mass dial at Badsey church.
---


www.archive.badsey.net
The Badsey Society's archive
& virtual museum
---
---
Badsey Flower Show
1 - 5pm, Saturday 26 July 2014
Visit the Badsey Society stall
* Archaeological Finds *
*Market Gardening Families *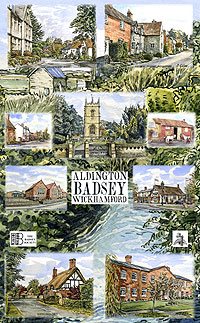 The new tea towel:
order it at the show for £5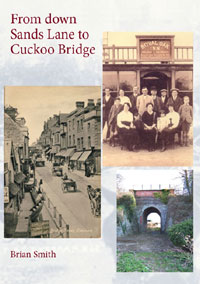 Brian Smith's poetry book
on sale at the show £5

---

Check out the books, videos and other publications from the Badsey Society.
---

Archaeology around Badsey
Asparagus origins NEW
Asum grammar: local dialect
Badsey man from London
Bellringers
Brewer's bakery
Businesses in early 20C
Childhood in Badsey poem
Children's letters 1933
Churchwardens' accounts
Churchwardens' presentments
Commercial horticulture
Evacuee's tale
Evesham Custom
Football history
Fruit varieties 100 years ago NEW
Girls' Friendly Society
Guidebooks comment
In Memoriam cards
Largest mass dial in the world?
Littleton & Badsey Growers
Manslaughter at Badsey
Market gardening about 1920
Old Badsey cures
Parish Constables in mid 19C NEW
Parish Magazine 1898 - 1918
Postcards 100 years ago
Post offices in Badsey
Queen's Jubilee 1887
Roman Badsey
School history
Silver Jubilee Day 1977
South African War
Sparrow hunting around 1910
Survey: 1931 dissertation
'Trusty' Tractor
War News 1914 - 1919
Water supply
Wild plants in 1821
Wireless in 1928
Women's Institute history
---